Slide your way into fun with rental party equipment.
Our team strives to go out of its way to make your event unique, memorable, and stress-free. We understand that party rentals are just one small piece to your puzzle. That said, we're committed to making it fit smoothly and seamlessly into your event, giving you one less thing to worry about! Inflate The Party has a large selection of inflatable bounce house rentals with a wide variety of themes to fit your preferences. We also have a selection of water slides and combination slide/bounce houses in our inventory. Slides provide a safe, exciting form of entertainment for your event and a great companion to a themed bounce house. Check out our full list of party rentals below.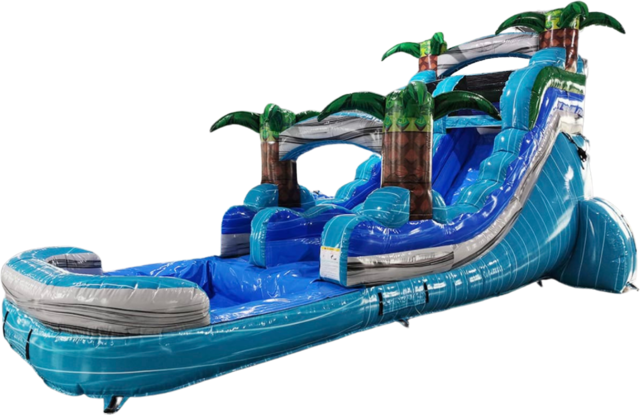 Description
15 ft Bahama Blast Slide
Kids of all ages will love this bright tropical slide. Palm trees create a tropical oasis on this bright blue slide that will remind you of the beautiful ocean at your last tropical destination. Climb the stairs up to the top and then race to the bottom and into the clear blue water that awaits in the refreshing pool at the end. Skip the tropical resort and the headache of travel and bring the tropical oasis to your every own backyard.
As with all of our inflatables, this 15 ft Bahama Blast Slide is regularly inspected and sanitized after every rental to ensure our customers have the best possible experience. At Inflate The Party the safety of our clients is our primary concern. The 15 ft Bahama Blast Slide features safety netting over the top of the slide.
Quick Facts
Max Riders:
Max Weight Total:
Min Height :
Max Height:
Power Required:
Leave the power on until we come back. The only exceptions are:

Winds over 15 mph
Thunder
Lightning
If the inflatable is staying over night (blower must be disconnected and brought inside)
Rules
Play at your own risk
No shoes, sneakers, flip flops, water shoes or sandals
No food, candy, gum or drinks on or near the inflatable
No confetti, glitter, silly string, crepe paper, slime, etc in or near the inflatable. They will stain and you will be responsible for the damage.
No pushing, shoving, wrestling or horseplay
No uneven size difference of players. (big kids with big kids and little kids with little kids)
No more than the recommended amount of players on the unit at any one time
All sharp objects must be removed before play (including pens, pencils, jewelry, knives, eyeglasses, etc)
Do not put water on a dry inflatable. This can result in injury and damage as well as a cleaning/drying fee.
Do not enter if you are pregnant or have any physical problems