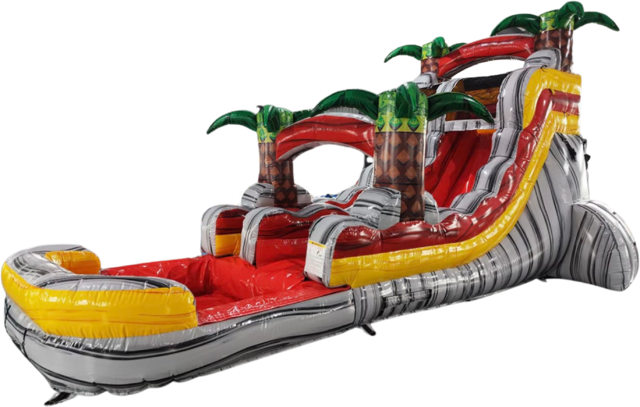 Description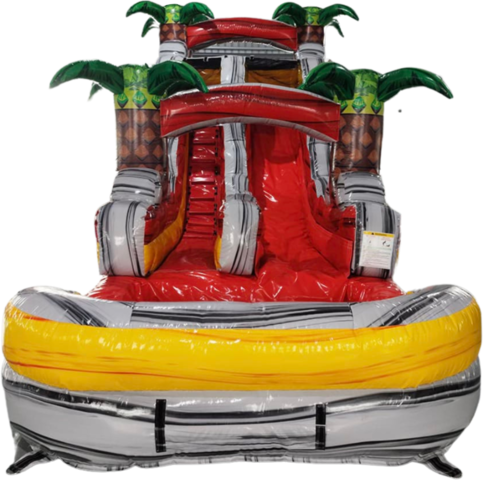 Get ready to slide into excitement with the 15 ft Fire Island Slide from Inflate the Party! This dual-lane water slide rental is perfect for kids of all ages who are looking for an adrenaline-pumping, tropical-themed adventure. With its vibrant colors, palm tree design, and refreshing pool at the bottom, this slide is sure to be the highlight of any event. Whether you're hosting a birthday party, a family gathering, a school carnival, or any other event, the 15 ft Fire Island Slide will provide endless fun and thrills for everyone.
Dual Lane Water Slide Rentals for Double the Fun
One of the best features of the 15 ft Fire Island Slide is its dual-lane design, which allows for friendly competition and double the fun. Kids can race their friends or siblings side by side, adding an exciting element of challenge and adventure. The dual lanes also help to keep the slide moving smoothly and quickly, ensuring that kids won't have to wait long for their turn to slide down and make a splash into the refreshing pool at the bottom.
Water Slide Rentals Near Me for Convenient Fun
If you're in the Richmond, TX area and looking for water slide rentals, look no further than Inflate the Party. As a local rental company, Inflate the Party provides convenient and reliable service to the Richmond community and surrounding areas. You won't have to worry about transportation or logistics, as Inflate the Party will handle all the delivery, setup, and takedown of the water slide, leaving you free to enjoy your event and create lasting memories.
Quick Facts
Max Riders:
Max Weight Total:
Min Height :
Max Height:
Power Required:
Leave the power on until we come back. The only exceptions are:

Winds over 15 mph
Thunder
Lightning
If the inflatable is staying over night (blower must be disconnected and brought inside)
Rules
Play at your own risk
No shoes, sneakers, flip flops, water shoes or sandals
No food, candy, gum or drinks on or near the inflatable
No confetti, glitter, silly string, crepe paper, slime, etc in or near the inflatable. They will stain and you will be responsible for the damage.
No pushing, shoving, wrestling or horseplay
No uneven size difference of players. (big kids with big kids and little kids with little kids)
No more than the recommended amount of players on the unit at any one time
All sharp objects must be removed before play (including pens, pencils, jewelry, knives, eyeglasses, etc)
Do not put water on a dry inflatable. This can result in injury and damage as well as a cleaning/drying fee.
Do not enter if you are pregnant or have any physical problems