Slide your way into fun with rental party equipment.
Our team strives to go out of its way to make your event unique, memorable, and stress-free. We understand that party rentals are just one small piece to your puzzle. That said, we're committed to making it fit smoothly and seamlessly into your event, giving you one less thing to worry about! Inflate The Party has a large selection of inflatable bounce house rentals with a wide variety of themes to fit your preferences. We also have a selection of water slides and combination slide/bounce houses in our inventory. Slides provide a safe, exciting form of entertainment for your event and a great companion to a themed bounce house. Check out our full list of party rentals below.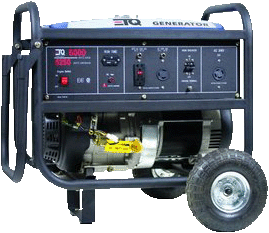 Description
Generator
Bring life to your event no matter where you are with a generator from Inflate The Party. We ensure our generators are serviced regularly and certified annually to provide the best possible experience. This generator will be able to power 2 blowers or concessions. Some inflatables do require more than one blower so please feel free to give us a call if you have any questions about how much power you will need for your event. The generator comes with a full tank of gas.