Slide your way into fun with rental party equipment.
Our team strives to go out of its way to make your event unique, memorable, and stress-free. We understand that party rentals are just one small piece to your puzzle. That said, we're committed to making it fit smoothly and seamlessly into your event, giving you one less thing to worry about! Inflate The Party has a large selection of inflatable bounce house rentals with a wide variety of themes to fit your preferences. We also have a selection of water slides and combination slide/bounce houses in our inventory. Slides provide a safe, exciting form of entertainment for your event and a great companion to a themed bounce house. Check out our full list of party rentals below.
Marble Bounce House & Slide Combo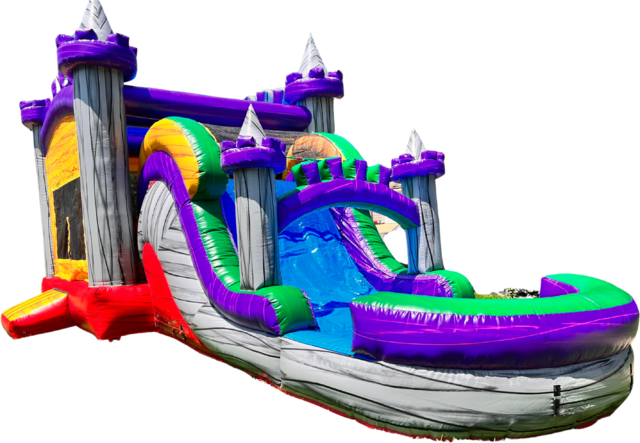 Description
Marble Bounce House & Slide Combo
What a sight! This bright eye-catching bounce house and slide combo features unique marble colors which are sure to get all your party goers jumping with excitement. Once inside they will find a huge jumping area so all of their friends can share in the fun before climbing the stairs and racing down the attached slide and going around for another turn. This colorful bounce house and slide combo will keep the smiles and fun going all day long.
As with all of our inflatables, this Marble Bounce House & Slide Combo is regularly inspected and sanitized after every rental to ensure our customers have the best possible experience. At Inflate The Party the safety of our clients is our primary concern. The Marble Bounce House & Slide Combo features safety netting on all 4 sides to provide a clear view into the bouncing area, provide adequate ventilation for warm days and keep bouncing kids from falling from the platform. There is safety netting over the top of the slide to ensure participants safety and discourage jumping from the platform. The Marble Bounce House & Slide Combo also has a covered top to provide shade and lessen sun exposure.
Quick Facts
Max Riders:
Max Weight Total:
Min Height :
Max Height:
Power Required:
Leave the power on until we come back. The only exceptions are:

Winds over 15 mph
Thunder
Lightning
If the inflatable is staying over night (blower must be disconnected and brought inside)