Slide your way into fun with rental party equipment.
Our team strives to go out of its way to make your event unique, memorable, and stress-free. We understand that party rentals are just one small piece to your puzzle. That said, we're committed to making it fit smoothly and seamlessly into your event, giving you one less thing to worry about! Inflate The Party has a large selection of inflatable bounce house rentals with a wide variety of themes to fit your preferences. We also have a selection of water slides and combination slide/bounce houses in our inventory. Slides provide a safe, exciting form of entertainment for your event and a great companion to a themed bounce house. Check out our full list of party rentals below.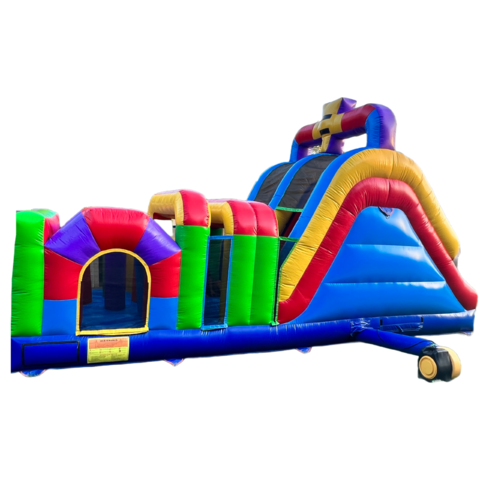 Description
30 Ft Obstacle Course w/ Slide
This thrilling 30 foot long obstacle course with attached slide is sure to excite and make a huge impact at your next gathering! The bright eye-catching colors will draw all your guests in to the adventure that awaits. This 30 ft Obstacle Course with attached slide is the perfect addition to any party or event. Keep everyone entertained as they race through the obstacles, around the pillars, through the tunnels and over the wall.
As with all of our inflatables, this 30ft Obstacle Course is regularly inspected and sanitized after every rental to ensure our customers have the best possible experience. At Inflate The Party the safety of our clients is our primary concern. This 30ft Obstacle Course features safety netting over the top of the slide to ensure participants safety and discourage jumping from the platform.
Obstacle courses are the perfect addition to any large gathering as they allow for guests to compete in a head to head challenge while also keeping the lines quickly moving to ensure everyone has a fun experience without the wait. It makes an excellent addition to your birthday party, block party, sports event, school function, church gathering or just because fun day.
Quick Facts
Max Riders:
Max Weight Total:
Min Height :
Max Height:
Power Required:
Leave the power on until we come back. The only exceptions are:

Winds over 15 mph
Thunder
Lightning
If the inflatable is staying over night (blower must be disconnected and brought inside)