Water Slide Rentals | Dual Lane Water slide Rental
15 ft Fire Island Slide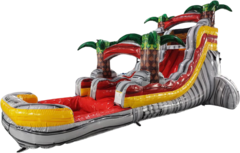 15 ft Bahama Blast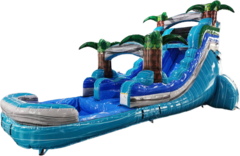 22ft Half Pipe Water Slide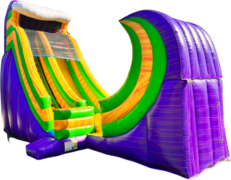 ke a splash at your next event in Richmond, TX? Look no further than Inflate the Party for all your water slide rental needs! Whether you're hosting a birthday party, a corporate event, a school carnival, or any other type of event, inflatable water slides are a surefire way to keep guests entertained and create lasting memories. With a wide selection of water slide rentals to choose from, professional service, and a commitment to safety, Inflate the Party is your go-to destination for water slide rentals in Richmond, TX.
Why Choose Inflate the Party for Water Slide Rentals in Richmond, TX?

Extensive Selection of Water Slide Rentals: Inflate the Party offers an extensive selection of water slide rentals to suit any event theme or size. From thrilling, tall water slides for the adventurous guests to smaller, gentler slides for younger kids, there is something for everyone. Their inventory includes single lane slides, dual lane slides for racing, and even slides with splash pools at the bottom for an extra splash of fun. With different colors, shapes, and sizes to choose from, you can find the perfect water slide to match your event's aesthetics and entertainment needs.

High-Quality, Clean, and Well-Maintained Inflatables: Inflate the Party takes pride in providing high-quality, clean, and well-maintained water slides for their customers. All their inflatables are made from commercial-grade materials that are durable and safe for use. They are regularly inspected, cleaned, and sanitized to ensure they are in pristine condition for every rental. Inflate the Party also follows all safety guidelines and regulations set by the industry and provides thorough safety instructions and guidelines to customers for proper use of their water slides.

Professional and Reliable Service: Inflate the Party is known for their exceptional customer service and professionalism. Their team is knowledgeable, friendly, and always ready to assist you in choosing the right water slide for your event, answering any questions you may have, and ensuring a smooth rental experience. They are prompt in delivering and setting up the water slides on time and take care of all the logistics, so you can focus on enjoying your event. After the event, they promptly dismantle and clean up the water slides, leaving no hassle for you.Competitive Pricing and Flexible Rental Options: Inflate the Party offers competitive pricing for their water slide rentals, making them affordable for all types of events and budgets. They also offer flexible rental options, including hourly, daily, and multi-day rentals, allowing you to choose the rental duration that best suits your event needs. They also offer special packages and discounts for multiple rentals or repeat customers, making their services even more budget-friendly.

Local and Convenient: Inflate the Party is a local water slide rental company based in Richmond, TX, which means they are conveniently located to serve the Richmond community and surrounding areas. This makes them easily accessible for events in and around the area, saving you time and effort in transportation.